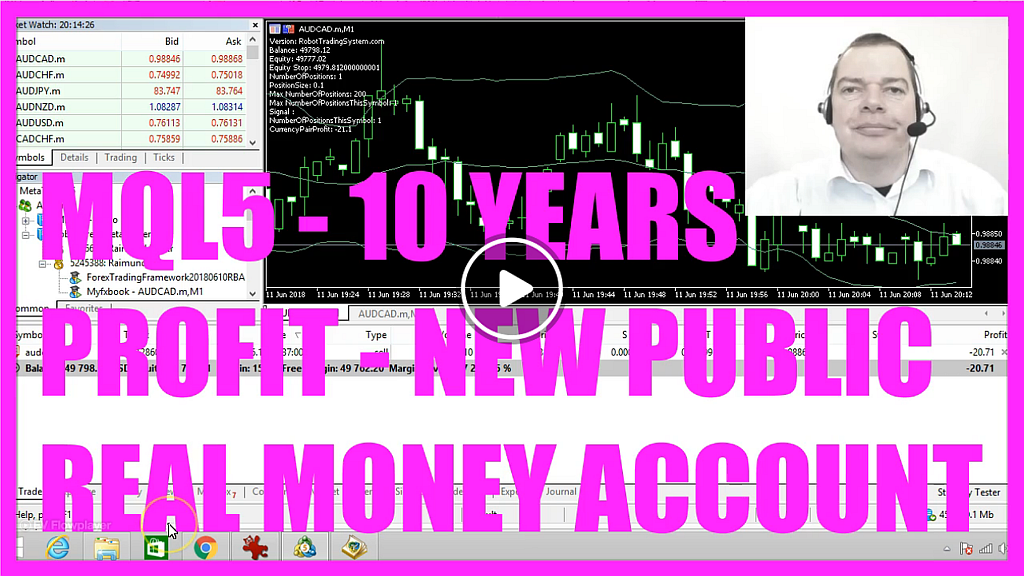 In this video we are going to talk about a new system and a new website. The new website will be: robottradingsystem.com, this is the new system; I have started to trade with it today so this is only the first trade.
This time the system is trading only the Australian against the Canadian Dollar, it's not a multi currency system so far and I wanted to explain why.
Once again I have done a long time test on weekend, I have traded from 2010 to 2018, and this is the video show that shows you different entries that I've traded.
This right now is the MACD entry and you can see that they all worked, this is the Random entry, all these entries have made a profit but there are some that stick out and one of them is my favorite entry and that is the Bollinger Bands.
This is the Simple Moving Average, let's stop this here, and this is the winner; it's the Bollinger Bands entry. I'm using a trading risk setting of: 2.7, in the new system you can right click on the chart, go to "Expert List", select "Properties" and here you can pick any value and in this new version you can also set floating type values, so this is my trading risk here, it's: 2.7 and the Bollinger Bands entry is the one that worked from 2008 to 2018, it has a pretty stable equity growth, we started with a 50,000 Dollar account, the end result is: 431,000 Dollars.
Some of the other systems made a little more or little less money but what I really like is that it is pretty stable, not only for 8 years as the RVI entry right now but for 10 years. You see that all those entries here had worked but I had to pick one, and the Bollinger Bands entry was the one that was the first profitable system for me.
I have tried all the entries in this file here but I had to make a decision and now I will go with the Bollinger Bands entry, the trading risk will be 2.7, it is a single currency system that is trading the Australian Dollar against the Canadian Dollar, I have already made a deposit on the Cent account here: 49,798 Dollars and 12 Cents, this is a real account, but remember a Cent account is a better way to scale your money because your Dollars are traded as Cents here.
This is my portfolio on My FX Book (myfxbook.com) here, is the new system you could Simply Google it by typing in: "myfxbook", and "justmyname", here we are and this is my whole portfolio where you can see all the systems that I've traded since 2014, this one is the last system that I have used as a template for the new one, it made 28,431 Dollars, you can see all the results here and you could go through all the trades for each and every currency pair.
I have made 5163 trades and you can see the details of each and every trade here, but it's also possible to use your own Metatrader to log into my account, the account number is: 5245388, the server is: "RoboForex-Metatrader 5" and right now you should see the investor password, please use a 0 (zero) instead of the letter "O" to log in and see each and every trade right in your Metatrader account. Right now there is not much going on here but as I said this is the first trade and if you are interested you can see how it all works out. If you see this video in a few months you can go to robottradingsystem.com to find out more about the system. It will play a big role in the new membership concept or you could bookmark the My FX Book website for robottradingsystem.com, so if you want to see results like these on your own account this might be interesting for you and now you know which kind of system and entry I prefer so if this is interesting for you watch the next few videos and you will see how it works.