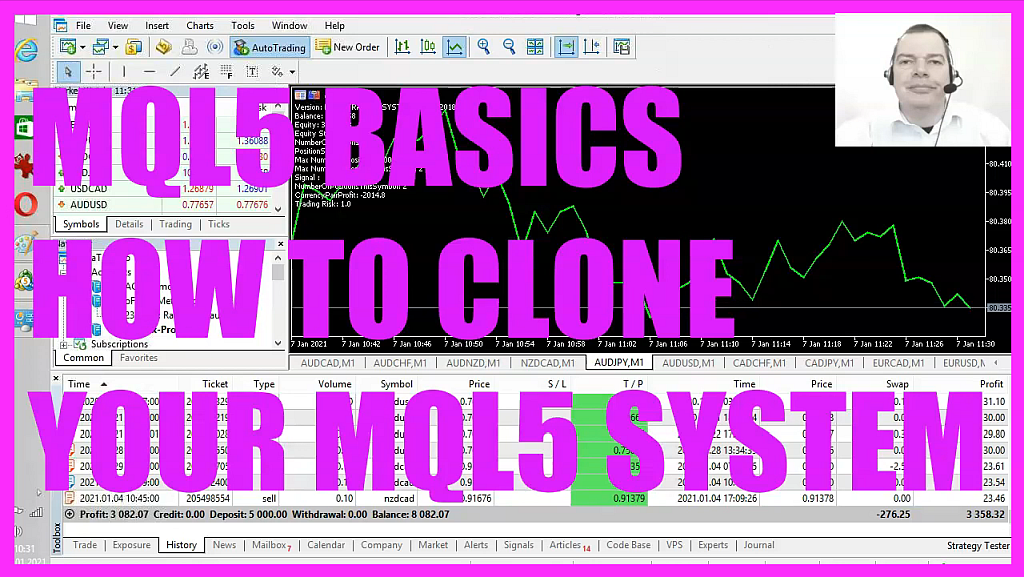 In this video, I would like to talk about how to clone an existing Metatrader5 installation and create a portable version that also can run from an USB stick. To do that you first need to have a pre configured installation like I have here. This is on a Windows machine. And when you click on file open data folder, you will see that the setup has created a folder inside of the user's folder. That's usually something like this one.
And inside you see several files and directories, but not all of what we need.
But it's possible to create a portable version. Actually, I have done that by using play on Linux and MX Linux. I have just copied my complete folder. This is a brand new Windows 10 machine. This is my USB stick.
I have created a version for Metatrader4 and this one is the one for Metatrader5. I can now copy the whole directory and paste it anywhere here in the file system without any installation, that might take a few seconds. It's also moving my history files here. So let's wait until this is finished. OK, now it is finished. I have no search results for any installation, but inside of this directory I can now click on the terminal64.exe file and you should see that Metatrader is started in the background.
This can take some time at the first start up, but here it is. Now I need to connect my account. So let's click on Continue. This is my existing real cent account 5245388. So let's type that in. And I also need to type in my password. Click on Finish. And now I'm connected. Here is my Expert Advisor. Let's click on file, open data folder. Now it has created the user directory here is the experts folder.
It copied everything, including the zip file. Here is my source code, my .ex5 file and folder for the library. My account stats. Let's try a strategy test. It's downloading history data. And here's the Strategy tester. We have the first trade here. So it's actually running. And in this little video, you have learned how to create a portable version of your existing Metatrader5 installation, including the Expert Advisor settings. You have done it yourself in a few minutes.
And if you have any questions or suggestions about this kind of setup, please let me know.