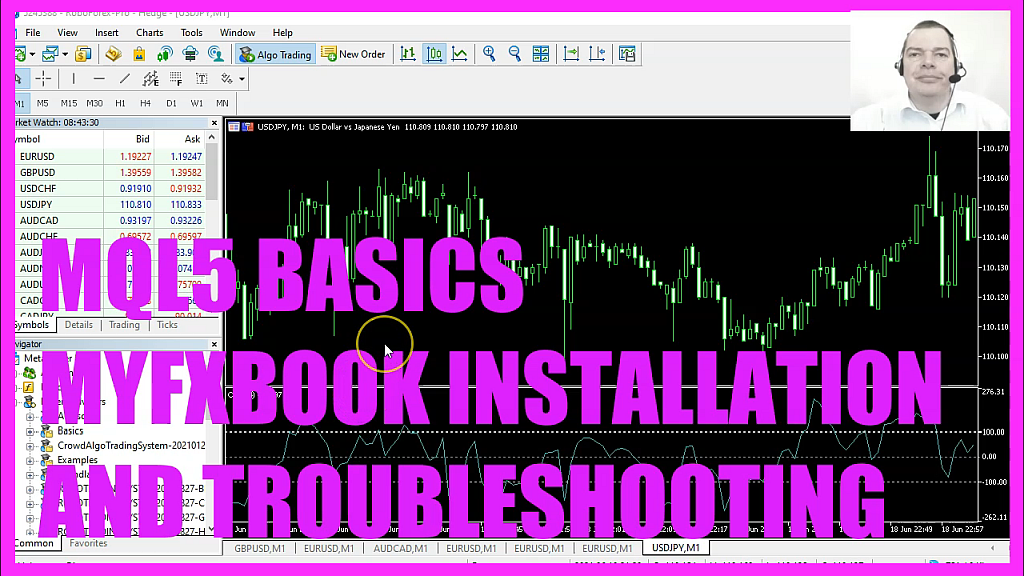 In this video we are going to import the MyFxBook Expert Advisor so we can publish our statistics on a website. So let's find out how to do that with MetaTrader 5. This is MyFxBook. It's a website that provides advanced statistics for automated trading systems. These are a few of my systems and you can see that they have been updated. And this website here, MyFxBook dot com, provides some advanced statistics.
This is a system that I have closed on February 4th and it says it stopped updating and I should download the latest MyFxBook Expert Advisor. Actually, I closed this one manually, but for this video, we are going to click on this link here. This is the MyFxBook EA, here we see the download. This is the download file and when we open it, you will see that it contains some files and a version TXT.
So let's actually start the installer process by double clicking it. And now it says that some additional applications need to be downloaded. This is the Dot net framework for Windows, so let's click on download and install. This might take a little while. This framework data is actually the reason why some Linux distributions have problems to update the Expert Advisor for MyFxBook, but on a Windows machine you should have no problems.
The download should be finished in a few seconds. Now we'll see that the installation is started and afterwards we see the dialogue that the DotNet framework was installed. So let's close that window. Now we need to restart the installation process. This time we will see a different window.
We can pick one of the installations. Actually, I have downloaded the wrong Expert Advisor installer. This one is for MetaTrader 4. So let's cancel that. And as often we will have more success when we do a Google search.
The third entry in the Google search is the Metatrader 5 Expert Advisor Connection Wizard. So let's click on this link and this one says that the EA installer MT5. So it's for Metatrader 5. You can drag and drop the MetaTrader 5 icon into this window. Here is mine.
So let's drop it here and it says the access was denied. So let's click on Browse. You should find it on your hard drive, mine is located on the C drive, programs MetaTrader 5 and now it says that we have an authorization problem. So let's right click this file and select run as administrator, repeat the browsing process.
Pick the file Terminal ICO. Click on Open and this time the installation worked. It says it was installed successfully. Now we can click on Finish and exit the installer window. If your Metatrader window is open, please right click on Expert Advisors and select refresh.
Afterwards you should see the MyFxBook Expert Advisor entry down here. Now let's drag it onto the chart. Click on the Dependencies tab here. We need to allow DLL imports. Now please click on the inputs tab, type in your email address and your MyFxBook password and click on OK.
In this case, it says that it has not published anything. Status is 502. That's because I used the wrong password. If you have that issue, please press F7 and correct your credentials. Afterwards the 502 error is gone.
This icon here should be green. If it isn't, please click on tools, options, Expert Advisor, allow algorithmic trading and DLL imports. Now please click on okay, I will now close and restart Metatrader. Now let's repeat the process. I have to retype my credentials.
It says last publish is never and it might take a little while. Let's try to switch to a different time frame. You can also check your journal for errors, but it says that the Expert Advisor was loaded successfully. So let's give it a few minutes and now it says it's uploading the statement. Once again, we have a status error.
It looks like we have a problem with this file. Ms. Core DLL but when you scroll down on the MyFxBook site, you will see that they actually provide their own MyFxBook DLL and the MyFxBook Ex5 file. So let's download those two files and try the manual way. The MyFxBook.ex5 file needs to be placed inside of the Experts folder.
I will replace the current one. The DLL file needs to be inside of the libraries folder. I need to remove the Expert Advisor from the chart so I can delete the old one and replace it. And now I need to repeat the whole thing. It says uploading statement, statement uploaded successfully.
So actually, we didn't have a problem with this ms core DLL dependency here. It rather looks like we had a problem with the MyFxBook Expert Advisor installation files. And in this little video, you have learned how to install and troubleshoot the MyFxBook Expert Advisor that is able to connect you to the service from MyFxBook.com.  And you have done it yourself in a few minutes.