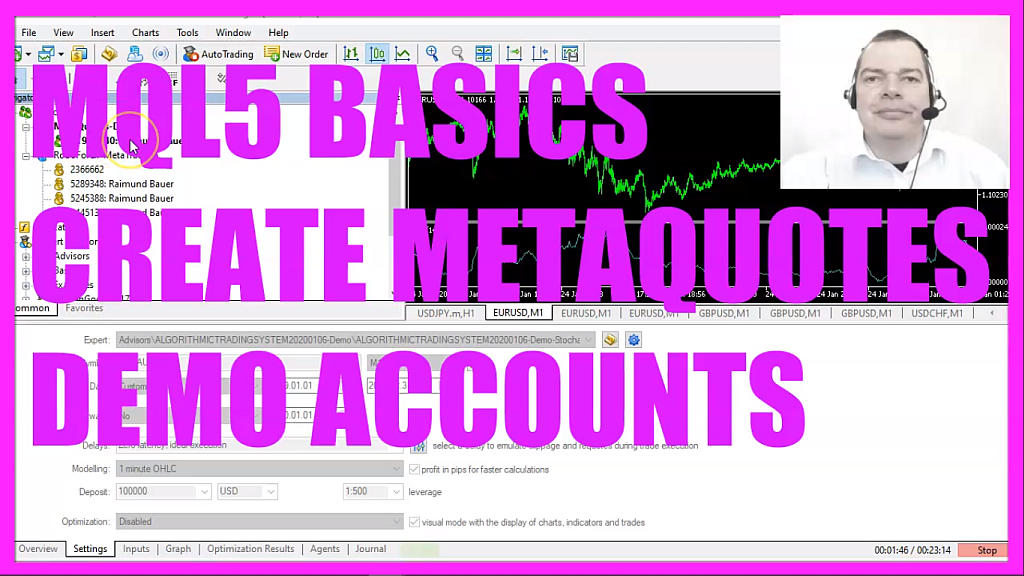 In this video we are going to create an original MetaQuotes demo account for Metatrader 5, usually, you get one of these demo accounts right away when you install Metatrader but from time to time you might need another one, so let's find out how to do that!
This is the robot trading system demo version that can be downloaded on the new website algorithmictradingsystem.com, it's free but it will only run with original MetaQuotes demo accounts. The reason is very simple, as MetaQuotes is the provider for the software that we are using, MetaQuotes demo accounts are available everywhere in the world and if you want to download one of the free expert advisor versions and compare your results with mine it's a good idea to use a real MetaQuotes demo account because depending on the broker you use you might have very different conditions.
For example, my leverage setting is 1 to 500 and that would not be possible with German brokers.
You see that my RoboForex account also supports the same setting but other things like spread and swap, these might be different so let's create one of these free accounts here, just right click on accounts, select open an account, here you should already see the MetaQuotes software cooperation, otherwise you could find it here.
We want this entry now let's click on continue, and the pre-selected entry is open a demo account to trade virtual money without risk, that's what we are going to do so let's click on continue, I have to fill in my credentials here and very important we want to use the hedge mode.
Until 2016 or so Metatrader 5 was only able to work with the netting mode, netting mode means that you couldn't have more than one position. A hedging account will have the word hedge inside of the account description and this is what we need if we want to trade several positions at the same time, that's exactly what we are doing right now in the strategy tester so let's mark this option, select a good leverage like 1 to 500, one hundred thousand dollars or euro, agree to the terms and conditions here and click on continue and now you should see the credentials for your brand new MetaQuotes demo account.
You can click this link to copy the registration information to your clipboard and you can paste the content into notepad or any other editor, now let's click on finish and here is our new account right away, it's already pre-activated here. Now let's go to the website algorithmictradingsystem.com, click onto the results link and here you can download the demo version for a lot of entries, you can download it for free and it will work with your original Metatrader 5 demo account so let's do that!
I want to select the two files, click on file, open data folder inside of Metatrader and navigate to mql5, experts, I will paste the files here, let's right-click on expert advisors and select refresh, here is the new file, we can now select it in the strategy tester, to save some time I will disable the visible mode here and start a test.
This is how it looks like, this was a very low-risk setting, let's select eighteen, restart the test and here you can see the results for the demo version, in this case for the Stochastic oscillator, in this case, the results look very promising with a download from algorithmictradingsystem.com and in this little video you have learned how to create an original MetaQuotes demo account inside of Metatrader and you have done it yourself within a few minutes.