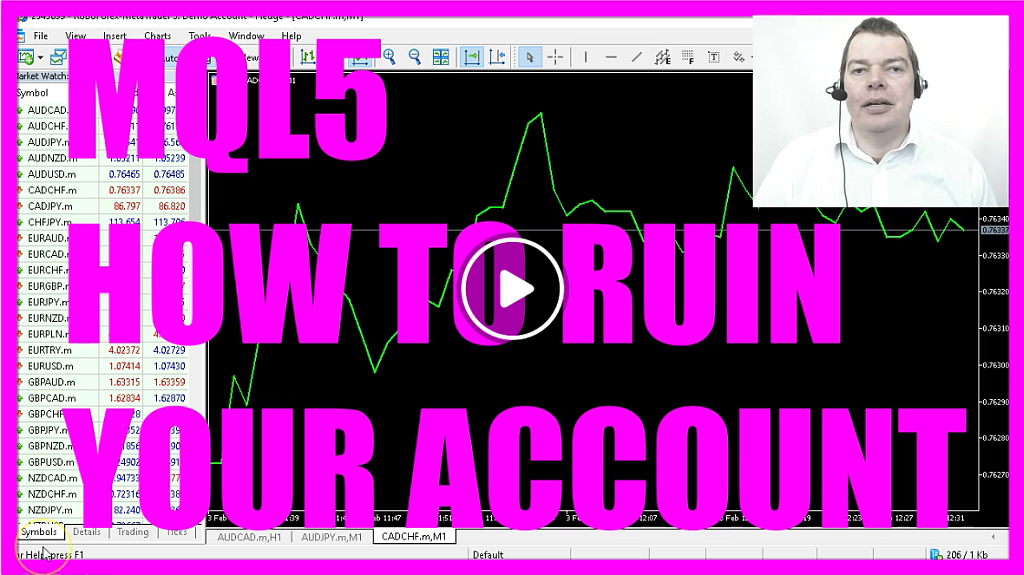 Okay now we are going to use something that I consider to be the biggest advantage that you can get in trading!
It's your ability to make thousands of trades within minutes.
Please click on View Strategy Tester or hit the control of the R key.
And now you should see the Strategy Tester Panel, we will pick the moving averageEX5 file, select one minute and the first currency pair you can get.
And we want to test for a custom period, let's pick January 2016 until January 2017 here, every tick is a little bit too much because it will take too long for this little demonstration video, we will choose OHLC that is Open High Low and Closed price data.
I would like to have one hundred thousand dollars and the biggest leverage I can get, and because I want to see something I have to mark the visualisation option here.
If you are finished with your settings please click on the Start button.
Now the Meta Trader will download some history data and after a few seconds your strategy test should start, obviously our Meta Trader is going to buy and sell.
Let's speed that up a little bit and here is what happened to our account.
Obviously the automated trading with this predefined Expert Advisor is the best way to get broke immediately.
So now you might ask yourself why the hell have they included an Expert Advisor that will ruin your account?
Let's try another currency pair here like the Euro US dollar and start another test, let's speed that up also.
And once again you can see your account going to hell immediately.
This is predictable loss! This is predictable disaster!
If you had used that you would have lost over $50,000 and less than a month.
Why should anybody include an Expert Advisor that loses all your money and risk rookies to use it to trade thousands of dollars on a real account without knowing what they do?
So please before you do anything else go right to your Meta Trader 5 installation and test the moving average.ex5 file in the examples folder by yourself.
If you can find the time do as many tests as you can!
You can also disable the visualisation mode here to speed things up.
So let's start a test for the currency pair British pound against Swiss Franc and watch your account going to hell on the third currency pair.
You ask yourself why I want you to do that? Well the reason is very simple!
If you experience that it is possible to ruin your account predictably with an automated trading system that is included in the default installation of Meta Trader 5, you will start to understand that trading is a game that is set up for most people to lose by default!
In the next video we are going to turn this around. Would that be something you would like to see?