SIMPLE AUTOMATED TRADING
Would you like to improve your results? Take your fear, greed and doubt out of the equation!
CLICK TO PLAY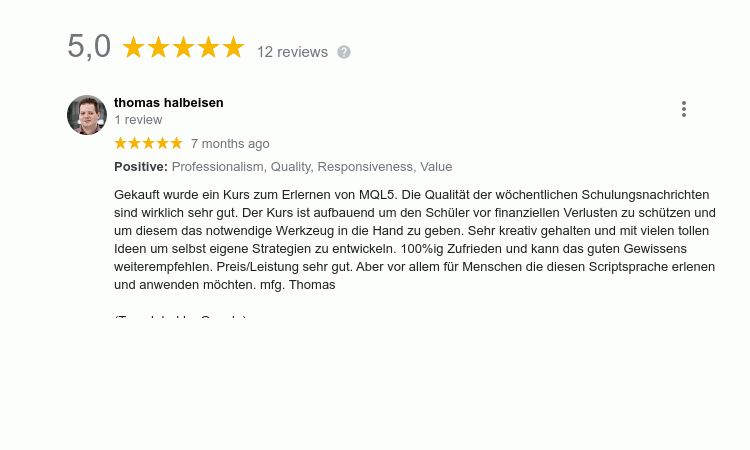 Trade automated for predictable improved results – while you eat, sleep or spend time with your family!
Let your trading robot trade for you
You will get 52 study letters, one each week and you will not only learn how to create your own trading system, but a complete trading framework that will work with any entry you prefer!
You will get study cases and precoded modules that can be combined to fit your very own preferred trading style.
You will not only be able to create a automated trading system, but a 100 percent customized MQL5 Robot that fits all your needs and therefore will be trustworthy.
You will be able to let your trading robot trade for you, no matter if you eat, sleep or spend time with your friends and family.
Imagine how it will change your trading
Imagine how it will change your trading when you know your exact expectancy – not only for a handful of trades, but for thousands of positions, traded in 10 or more currency pairs for 10 or more years – and you can do it automated – on a single rainy Sunday afternoon.
This is your chance to get the trading experience of a few dozen years in just a few months…
Are your trading results painful?
Do you loose money?Is the market going against you?Are you unsatisfied?Would you like to improve?Do you miss good sleep?Are you afraid?Do you fear consequences?Are you looking for a REAL solution?
Start with results right away!
Process Steps
Please follow the next steps to get started
STEP 01
Open a demo account (must support hedging mode). I use RoboForex because they do support any kind of automated trading robot for MQL4 or MQL5 and the demo account will never run out. And they have Cent accounts and Swap Free accounts.
STEP 02
In the very first study letter you will get a working MQL5 system you can trade.
Do lots of backtesting. If you don't know what backtesting is, it is a way to do thousands of trades within minutes.
STEP 03
Afterwards change a single thing and find out, if your results improve. If your results are better, you have a new standard to build on. If your results are worse, change something else. If automated trading with MQL5 is for you, join today, because will not get this stuff anywhere else.
WHY IS THIS COURSE DIFFERENT?
1

Other courses will not get you to your first automated trade right away.

2

Other courses will not let you create your own trading framework.

3

Other courses will not have interchangeable modules.

4

Other courses will not save you months or even years.

5

Other courses will not have personal mail support.

6

Because of that personal mail support I can't serve an unlimited time of course members at the same time.

7

So if this course is something, that is interesting for you go and buy it today. It won't be around for this price for very long…
See the trading framework you will build at work!
CLICK TO PLAY
What should I do now?
They say insanity is doing the same and expecting different results.
You know automated trading works better, because it will take YOU out of the equation.
Big companies do it and they have made good money with it. That is why they spend millions of dollars to improve their automated trading.
Today you can do it, because your network connection and computing power exceeds the requirements for profitable, automated trading.
No more sleepless nights because of risky revenge trades.
No more emotional roller coaster.
Just predictably, measurable improved results from now on.
Buy it. Try it. Learn it. Return it if it doesn't work. Guaranteed and for 60 days!
$249 for a whole year! Get $20 discount for a one time payment!
The debiting is done by Digistore24.com | Die Abbuchung erfolgt durch Digistore24.com
Unsere Kontaktdaten finden Sie im Impressum / You can find our contact details in the Impressum
P.S. Automated trading is a skill. It can be learned and it can be improved. By anyone who is willing to do the work. Stop being a hope trader and start to create predictable results – based on the two most important

natural

laws – today!